It seems that we barely finish ringing in the New Year before people begin to ask us 'How's the bluebonnet crop this year?'
It's a true obsession. A rite of passage. A Texas tradition carried on throughout countless generations. Almost a primal need to find the perfect spot to plunk down your babies, both human and fur, to ensure the bluebonnet season (and said family members) have been preserved in history. No other wildflower will do, it must be bluebonnets for a true Texas bluebonnet baptism ... no disrespect meant ... but sometimes it does feel almost as important.
Let's be honest, finding a giant field of bluebonnets is like walking into a picture painted by the hand of God. There really is nothing like it, especially if we are lucky enough to experience a 'Super Bloom'... oceans of bluebonnets as far as the eye can see ... cascading wave after wave, adorning our fields and hillsides.
However ... what if the Spring doesn't give us a Super Bloom, or perhaps you miss the blooming peak by a week ... but you still NEED that bluebonnet fix.
No worries ... all is not lost!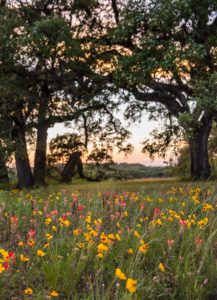 Take a moment and look around. It's beautiful here, regardless of Super Blooms. Really beautiful, with so much to take in and enjoy ... beyond the bluebonnets.
Wildflowers are everywhere, in every color and are ever changing depending the time of spring or summer you visit our area. Multi-colored phlox carpet the earth, then bluebonnets, Indian paintbrushes and wine cups reach for the warm spring sun and Indian blankets and coreopsis let us know that summer is in full swing.
Wildflowers can be amazing tour guides in Washington County. They can lead you to places and experiences both expected and unexpected.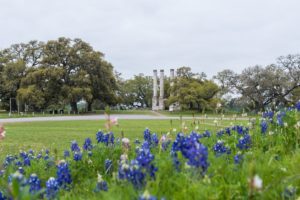 A favorite stop for bluebonnet hunters is Old Baylor Park in Independence. Centuries old, graceful oak trees gently shade the area where old Baylor Female College once stood. Situated just off Highway 390, it's a perfect location for travelers who have driven the scenic highway to relax and take photos.
While there, take a look around and you'll discover hidden sites. The Independence cemetery is nearby where you'll gaze on a treasure of old graves that lie beneath mounds of wildflowers that seem to understand they are gracing our ancestors who are at rest beneath. Truly a beautiful and historical place.
Texas Baptist Historical Museum welcomes visitors to discover the area's past. This is where Sam Houston attended church ... you can even see where he carved his initials in the pew!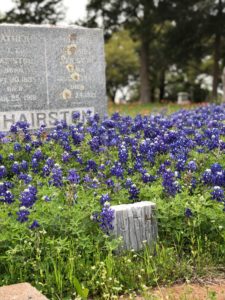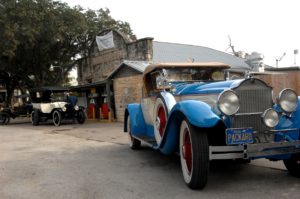 Plan your visit around the lunch hour and come hungry! The Independence General Store (circa 1900) serves the best hamburgers around. Grab your sodas and longnecks from the coolers and order at the counter. Then, head out back and enjoy the breeze on the raised deck while waiting for your burger. No doubt you'll be visited by the resident goat who will meander up the wooden stairs and peer through the gate to check for any leftovers ... and he's usually not disappointed ... there's always a bite or two left to share. Forgot to mention this is a casual affair, no tie needed. Ha!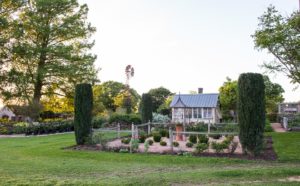 Time to walk off lunch. Luckily, just five minutes up the road you'll find the Antique Rose Emporium. This eight-acre botanical garden center offers views from every angle and antique rose varieties of all types ... not to mention a ton of native plants. It's the perfect place to take a walk and breathe in the fresh air while surrounded by nature.
There's so much to do and see, you'll want to plan a weekend ... or a few days to take it all in!
Chappell Hill's Official Bluebonnet Festival of Texas, Burton's Cotton Gin Festival, and Brenham's Cool Nights, Hot Tunes all land on the same date this year, April 18th. Enjoy the festivals by day and head to downtown Brenham that evening for a free outdoor concert under the stars, around the courthouse square. It doesn't get more fun or more Texan than this ... it's great fun for the whole family.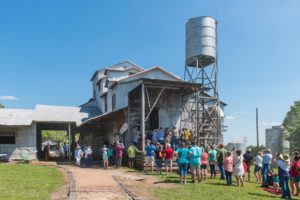 Super Bloom? Only time will tell. Super Fun? Definitely … come exploring all the sites and sounds our area has to offer. There's no better way to unwind, relax and enjoy the beauty that surrounds us in Brenham and beyond.
See you soon!