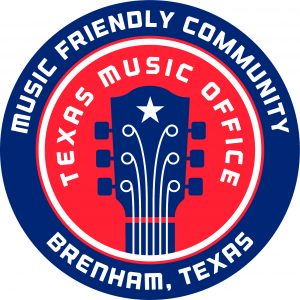 Brenham is a certified "Music Friendly Community"
Participation in the Texas Music Office's "Music Friendly Community" program provides Texas communities with a network for fostering music industry development, and sends a clear message to industry professionals that certified communities are serious about attracting and developing music industry growth.
Visit Brenham/Washington County, our area's Destination Marketing Organization, or DMO, along with the newly formed Texas Music Friendly Committee has completed all of the steps for certification as of January 12, 2021!  We are honored to add our name to a roster of other great Texas cities like Fort Worth, Austin, San Antonio, Denton, Lindale, Stephenville, Conroe, Waxahachie, Waco, McKinney, Lubbock, Bastrop, and more.
"We are looking forward to celebrating our new designation as a Texas Music Friendly Community," said Jennifer Eckermann, Director of Tourism & Marketing for the City of Brenham. "Locals and visitors alike are able to appreciate the growing popularity of our music venues, and our amazing local talent," Eckermann added, "and with this new focus, we will be looking at opportunities to help support this local industry."
Visit Brenham/Washington County is the liaison between the city of Brenham and the Texas Music Office, and Tourism & Marketing Director Jennifer Eckermann and Partner & Experience Manager Kathrine Briscoe will be responsible for required reporting and working with the Texas Music Friendly Committee.  The committee is made up of  Scott Atwood, Cameron Crawford, Rob Moorman, Vicky Wehmeyer and Tom Whitehead.
"The City of Brenham is honored to be officially designated as Texas Music Friendly," added Eckermann, "understanding that music contributes to making communities better, more vibrant and more livable."  "Brenham is honored to be in the company of the other great cities that have been designated Music Friendly by the Texas Music Office," said Brenham Mayor, Milton Tate.  "Music has been part of Texas history since before the signing of the Declaration of Independence from Mexico," he added, "just down the road from us at Washington on the Brazos.  We're excited to add another important date to the historical timeline for our community."
Please complete the following information if you would like your music related business added to our database.
Live music is alive and well in Washington County, find venues and events here.