It's rodeo time in Houston. Every March, the Houston Livestock Show and Rodeo™ gears up for a month of BBQ, rodeos, world-famous performers, livestock shows, auctions, and much, much more. Kicking off this month-long celebration are the 12 trail rides that begin in February and come in from all over Texas. But it's the Salt Grass Trail Ride that is the "Granddaddy of Them All" which got its start back in 1952 in Brenham.
Reese Lockett was a Brenham boy who had made it big.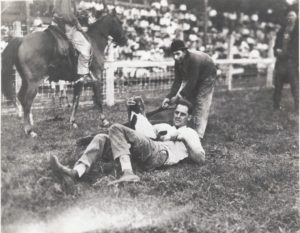 His rodeo abilities got him movie roles where he became friends with Gene Autry and Will Rogers. He traveled to England to perform in a wild west act for the King and also staged annual rodeos at Madison Square Garden. He eventually returned to Brenham to work in the banking industry and own a men's store downtown. In 1934, he was elected mayor and held that position for the next 28 years (minus a 6-year hiatus). While mayor, he "maintained" his cowboy status by living on a large ranch and helping organize both the Texas Prison Rodeo in Huntsville and the Houston Fat Stock Show. But it was a trip to the Orange Bowl game in Florida resulting in cancelled flights home that evolved into the Salt Grass Trail Ride.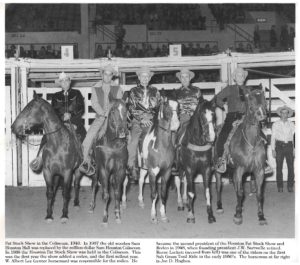 After he finally made it home from Florida, a few friends were talking, and Lockett vowed to "never make another trip where I can't ride home on my horse." One of Lockett's friends asked him to be an Arena Director of the Houston Fat Stock show and he was reminded of his vow. Yet another friend thought it would be great publicity for the rodeo if Lockett rode his horse to Houston all the way from Brenham.
On January 30, 1952, Reese Lockett, Pat Flaherty, E.H. Marks, and John Warnasch left Brenham with a chuck wagon and followed the pioneer cattle drive trail, known as the Salt Grass Trail, to Houston. Along the way, 13 other people joined the journey and drew more publicity than those four men ever expected. In a few short years, the ride grew to over 2,000 riders. It continues every February; the 103-mile journey still marks the start of the Houston Livestock Show and Rodeo with over 20 wagons from the Salt Grass Trail riding in the parade in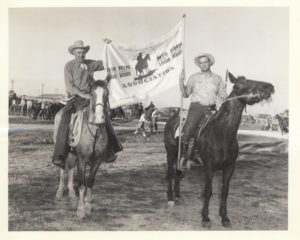 Downtown Houston. Lockett was the trail boss of the Saltgrass Trail Ride from 1952-1969. This year, the ride will begin on February 21st in Cat Spring and arrive at the parade in Downtown Houston on February 29th. The Salt Grass Trail Ride has become a family tradition for many. Today there are grandchildren and great-grandchildren riding alongside their parents and grandparents on the week-long journey.
Lockett had a huge impact not only on the formation of the Houston Livestock Show and Rodeo™ but in Brenham and Washington County as well. He was an active member of the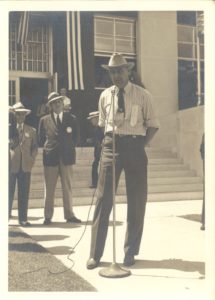 Chamber of Commerce, served on the board of Blinn College, and as a former Maifest King (wife Hester was a Maifest Queen) he was always a part of the annual Maifest Association Celebration.
In honor of all his contributions to Brenham and Washington County, a statue by Edd Hayes, titled "Ready to Ride," was installed near City Hall in Lockett Plaza on September 11, 2001. I took a personal interest in Mr. Lockett's story since I started riding Salt Grass back in 2005 when my step-sister got me involved. I ride with wagon 21, The Rounders (who formed in 1973), and look forward to it every year. Due to volunteering at the BBQ Contest with the Houston Rodeo, I only get to go for the weekend. It's always terrible weather. It's a lot of work, with late nights and early mornings moving rigs to the next camp. Riding all day wears you out pretty quickly but, MAN! is it ever fun. The late nights by the campfire created a bond with people who started out as strangers but grew to be some of the best friends I have. The kind of people who would give you the shirt off their back if you needed it, no matter the situation. With today's modern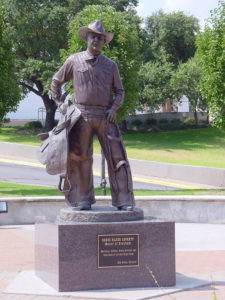 conveniences, camp looks a lot different than when Mr. Lockett rode. I have to say, although I really wish I could've ridden once back in the early days, I greatly appreciate the campers and trailers of today instead of the bed rolls and tents of yesteryear. I moved to Brenham in 2012 and Mr. Lockett's statue is not too far from my house. I drove by it for YEARS not knowing who he was or why he even had a statue. If it hadn't been for working at the Visitor Center, I would've never known about our little "connection."
Thanks to the Houston Livestock Show and Rodeo™, the Saltgrass Trail Ride Association, and the Texas State Historical Association for detailed information.