In recent years, Brenham has become quite the destination for barbecue aficionados and Texas foodies. With TWO local smokehouses listed on Texas Monthly's Top 50 BBQ Joints, and several more with their own following, Brenham is a must-stop on the quest for the best Texas BBQ. To make it easier for your dining tour, we've mapped the Brenham Barbecue Trail.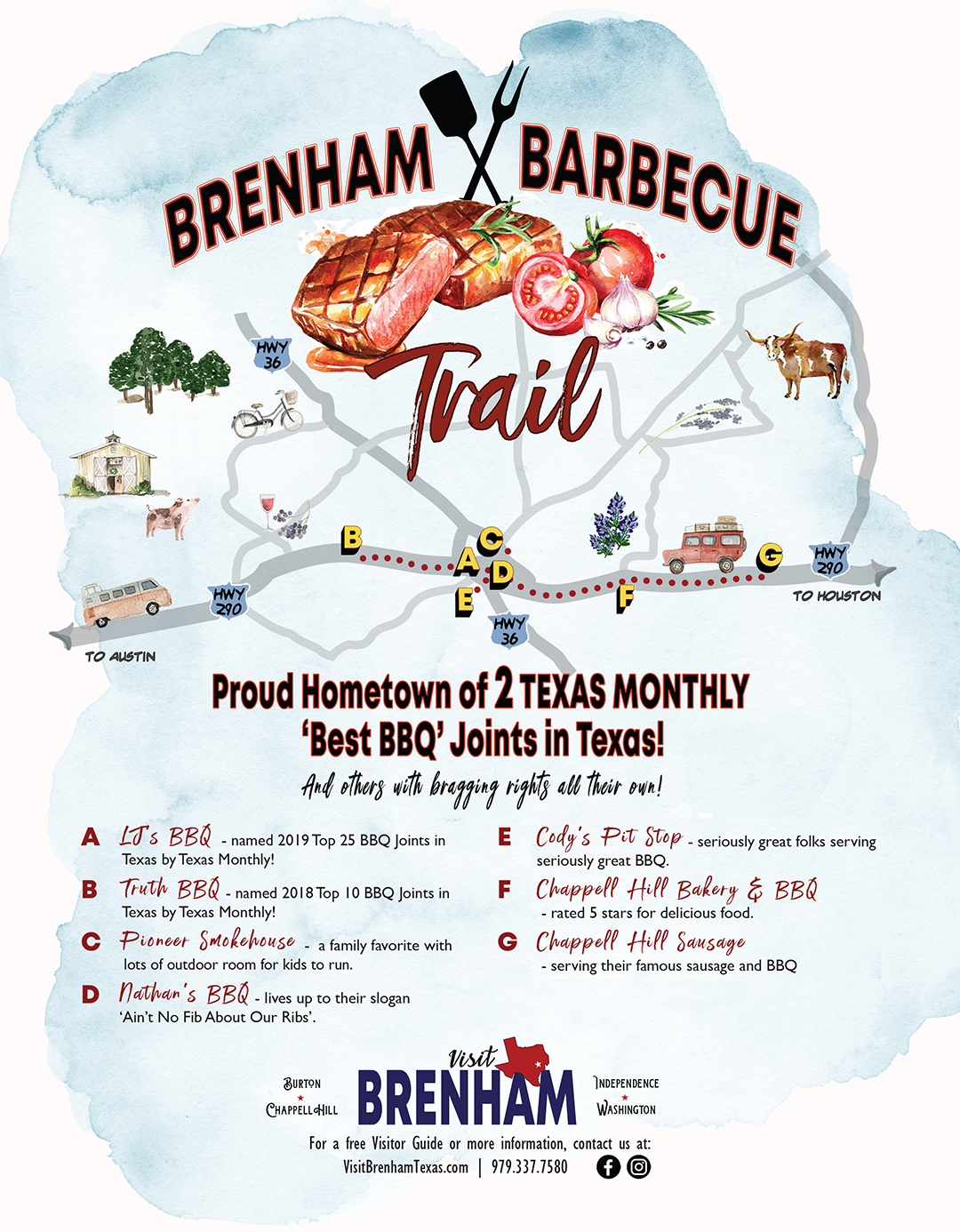 May is National BBQ Month, so it's the perfect time to make a long weekend of the Brenham BBQ Trail and enjoy all that Washington County has to offer!
A. LJ's BBQ

Along with being a local favorite, LJ's has received many accolades and recognition since opening in 2015. LJ's was recently tapped again by Texas Monthly for its 2021 list of Top 50 BBQ Joints. Pitmasters Matt Lowery and Corey Cook were also featured in 2021 on the Today Show with Jenna Bush Hager & Hoda Kotb. Their perfectly smoked meats speak for themselves but don't forget the sides! LJ's famous Mac & Cheese, collard greens, German-style potato salad, and beans all deserve a place on the tray.
Local Tip: Top that famous mac & cheese with the brisket! And be sure to grab a complimentary beer from the cooler, featuring local brewer, Brazos Valley Brewing Co.
1407 W. Main St. Brenham, TX 77833 |  979-421-8292; Wed–Sat 11–3 or sell out
B. Truth BBQ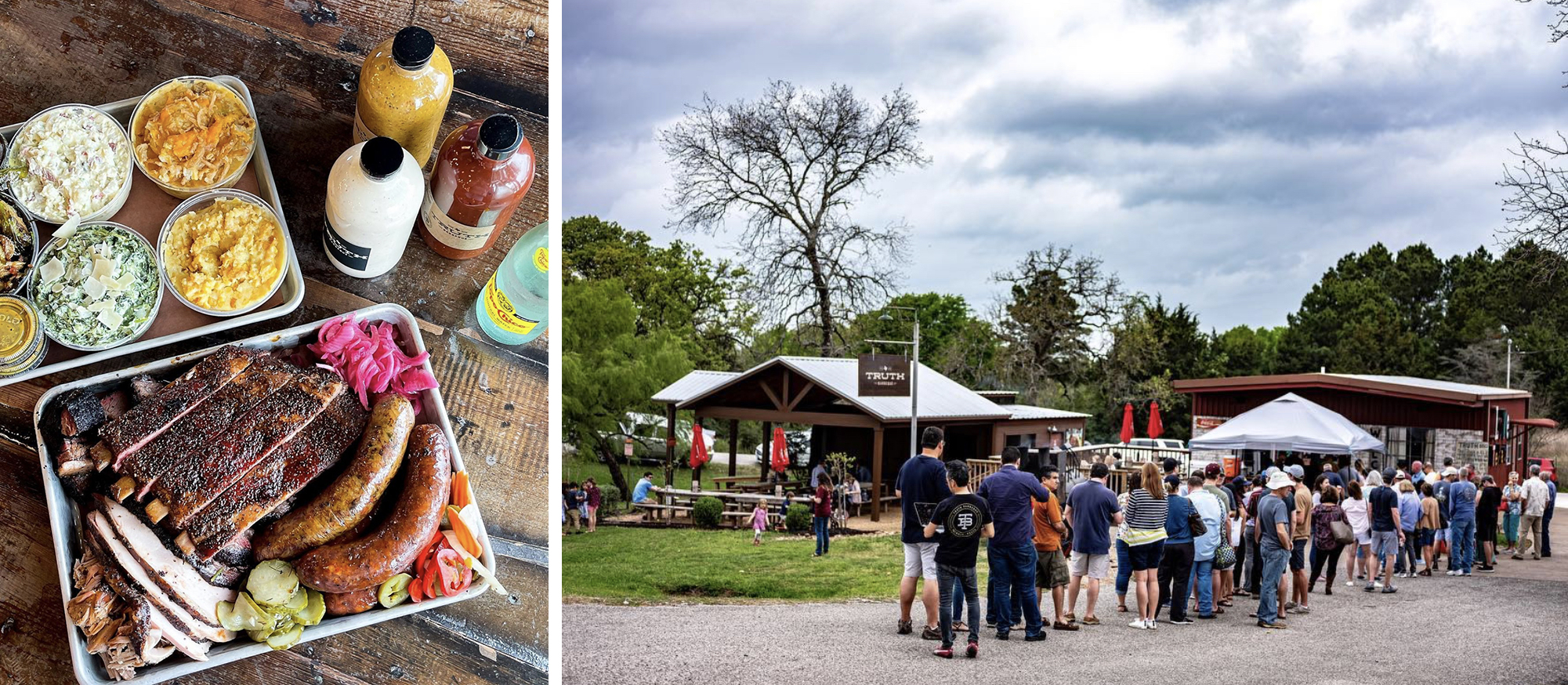 After opening his doors in 2015, Pitmaster Leonard Botello IV's Truth BBQ has become a fixture on Best BBQ lists around the globe for good reason. Recently named again on Texas Monthly's list of Top 50 BBQ Joints, this time Truth rises to No. 3 in the ranks of Texas BBQ royalty. Every meat on the menu is a must-try. But don't stop with the meat–if you can't save room for dessert, then order the cake to-go, because you don't want to miss it!
Local Tip: Call ahead to check for closures. Bring a hat or sunscreen and a friend to visit with while you wait in line.
2990 US – 290, Brenham, TX 77833  |  (979) 830-0392  |  *Call ahead to check for closures.  |  Open Sat & Sun 11 am to sellout
C. Pioneer Smokehouse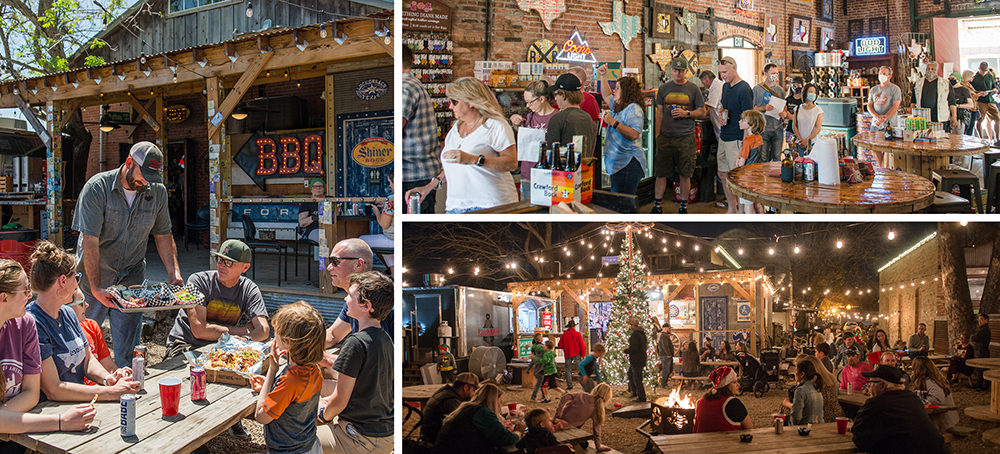 Pioneer Smokehouse is family-friendly and fun year-round in the heart of Downtown Brenham. In addition to delicious BBQ, they have a wide selection of beer, games on the patio, and seating inside & outside. A recent addition to Pioneer's offerings includes a seven-seater party bike to rent and ride downtown!
Local Tip: The Hobo Nachos are a crowd-pleaser!
309 S. Park St., Brenham, TX 77833  |  (713) 876-8416  |  Open Thurs: 9am-2pm, 5-10pm;  Fri: 11am-2pm, 5-11pm;  Sat: 11am-11pm
D. Nathan's BBQ

Long known for their ribs, Nathan's BBQ has been serving up old-school Texas barbecue for decades. Open daily for lunch and dinner, Nathan's has an extensive menu of meats, sides, and desserts.
Local Tip: Look for live music on Friday nights.
1307 Prairie Lea St., Brenham, TX 77833  | (979) 251-9900 |  Open M-F: 11am-8pm; Sat: 11am-9pm;  Sun: 11am-6pm
E. Cody's Pit Stop BBQ

This local secret is bound to get out! Cody's Pit Stop is a family affair–everything from the pit to the desserts to the Texas BBQ joint decor. You'll love the food, and you'll be treated like family.  Plan ahead, though, because Cody's is only open one day a week (Saturday–or Sunday if it's high school football season in Texas).
Local Tip: During bluebonnets season, the fields near Cody's are a sea of blue.
2828 Industrial Blvd., Brenham, TX 77833  | (979) 421-0514 |  Open only on Saturdays* 11-3 or sell out   |  *Open only on Sundays during high school football season 
F. Chappell Hill Bakery · Deli · BBQ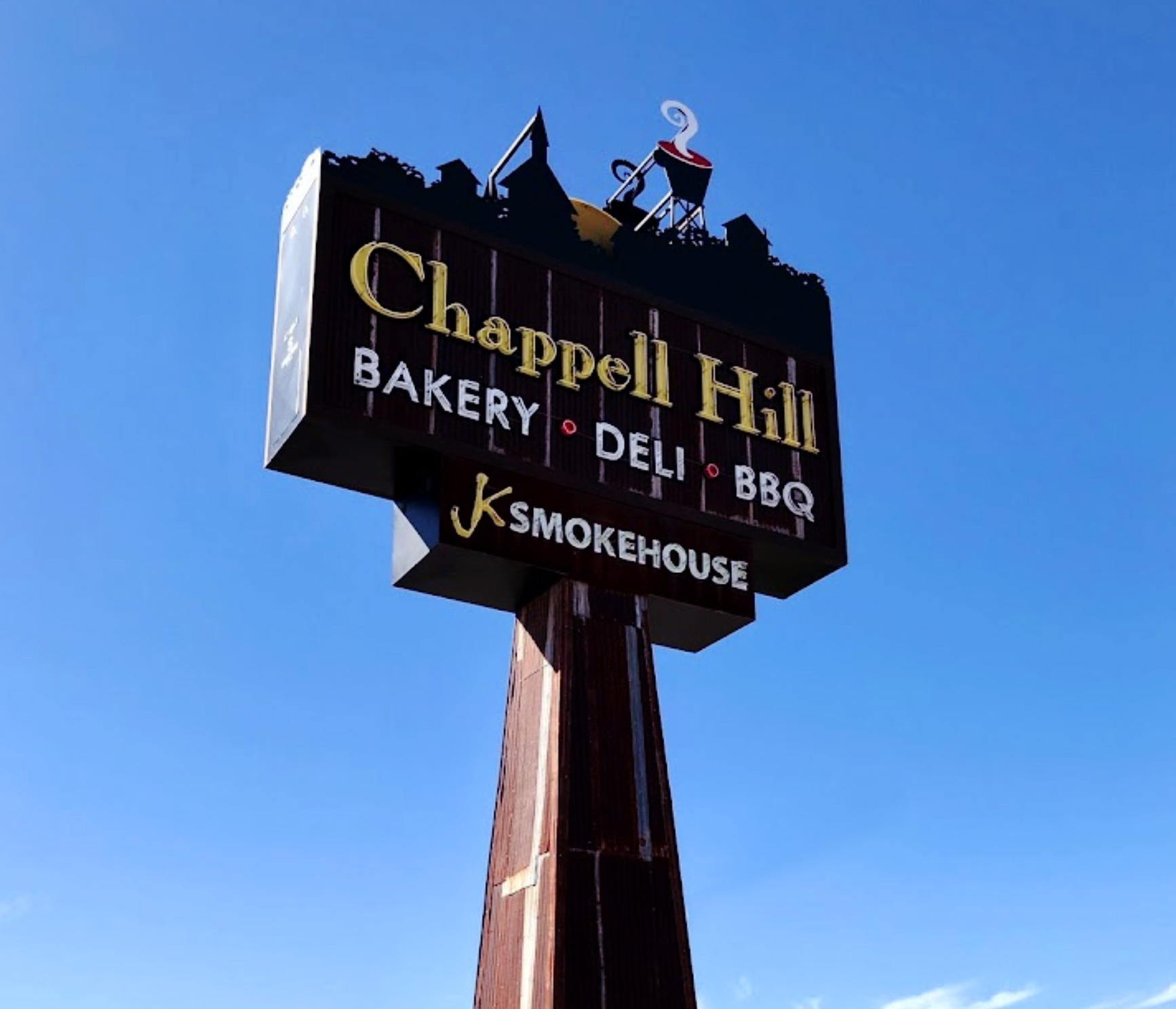 Chappell Hill Bakery, Deli & BBQ is the perfect stop for a weary road tripper. The meats and meal plates are amazing, and the bakery will make your sweet tooth sing. They are famous for their kolaches, and their BBQ & pie have previously received an honorable mention in Texas Monthly's coveted list. The dining room is big and can accommodate sizable groups.
Local Tip: Stock up at their market with meats and treats for the rest of your trip!
8900 Hwy 290 E, Chappell Hill, TX 77426  |  (979) 836-0910  |  Sun – Thurs: 6am-8pm; Fri – Sat: 6am-9pm
G. Chappell Hill Sausage

Chappell Hill Sausage is sold in grocery stores across the state, and they happen to be based right here in Washington County. The meat market also houses a shop and restaurant, featuring their renowned sausage, barbecue, bacon, and other meats. From a burger to the brisket to the fresh smoked bacon, you can't go wrong at Chappell Hill Sausage.
Local Tip: Order one of their honey-glazed hams for the holidays!
4255 Sausage Ln., Chappell Hill, TX 77426  |  (979) 836-5830  |  M-F: 8am-5pm; Sat: 8am-3pm