Get ready to be Summer Sippin' the third Saturday in Historic Downtown Brenham! Your collectible glass is your ticket to sampling dozens of wines from around the world, all while strolling through the unique shops in Downtown Brenham! Purchase your glass online or at any Summer Sip participant locations! **Due to Covid-19, the Summer Sip has been moved to September 12th. See event calendar for details.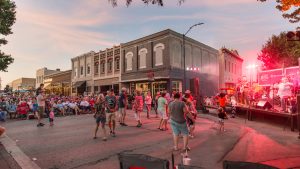 Have a cool time around historic Downtown Brenham's square where four Saturdays nights – typically every weekend in July (depending on how the holiday falls) – are made for Hot Nights Cool Tunes free outdoor concerts! Bring your lawn chairs and listen to great live music played by a different band each evening. Also find the Stray Katz Classic Car Cruise-In, food and beverage vendors, and tasty selections at local restaurants. **Due to Covid-19, Hot Nights, Cool Tunes Concert Series has been moved to October and there will be no cruise-in.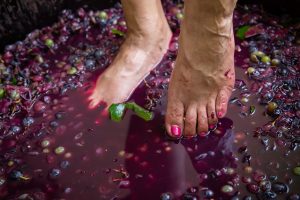 Happiness is purple feet every weekend in July and August! Walk out to the vineyard, pick grapes, then come back to the shade of our porch, pour some grapes in the barrel, and step in to squeeze and squish. Step out with your purple feet onto your keepsake T-shirt. This is a child friendly event so remember to bring your video camera!
With four consecutive weekends in July and August, is the biggest event held at the oldest winery in Washington County. You get to pick and stomp "I Love Lucy-style" and place your footprints on a T-shirt. Bring the kids and don't forget your camera for this annual event.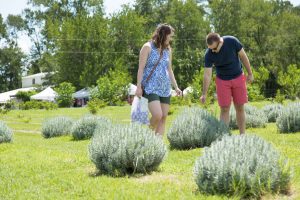 Enjoy a quaint countryside festival nestled in the heart of beautiful Washington County. On the second Saturday in August each year Chappell Hill Lavender Farm partners with Windy Winery to host this unique event. Activities are ongoing at both locations. Begin your day at the Lavender Farm where you will find local vendors, live music, demonstrations, lavender cuisine, and plants for sale and cutting (if blooming). Then head over to Windy Winery for grape stomping, live music and wine tastings. **Due to Covid-19, the Lavender & Wine Festival for 2020 has been cancelled.