Grandma of the Year … or at least a close runner-up!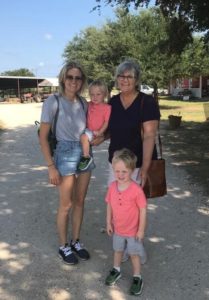 When I learned my daughter who lives in Los Angeles was planning a week-long visit in August with her boys, ages 3 1/2 and almost 2, I was thrilled … and then panic-stricken. How will I entertain two very active toddlers for a week? What will they like? How can I live up to the tall 'Texas' tales they've been told by their mom? They already refer to their grandfather as 'cowboy grandpa'… and we don't even own a horse?!
It was time for some serious planning, which turned out to be not so serious and truly a lot of fun for the whole family. Showing our grands around the Brenham area was eye-opening and educational … even for us … and we've lived here for 30 years!
Day One - Floats and Flicks
There is no better way to beat the Texas heat than by watching an outdoor movie while floating in the pool at Brenham's Blue Bell Aquatic Center. It is perfect for kids of all ages. The ice cream-themed pool floats and decor set the scene for a lot of fun and laughter. The cost was nominal … which put a smile on Cowboy Grandpa's face, too!
Day Two - Jersey Barnyard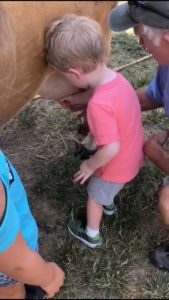 Of course, Texas conjures up images of cows and our two boys were obsessed with everything cow. This meant finding a fun way to get them up close to these creatures and The Jersey Barnyard, about 45 minutes away, did not disappoint. After a short hayride we met Belle, the famous Blue Bell cow … and even got to milk her! Then bottle-fed a sweet calf. Fed the barnyard animals, which included goats, ducks, rabbits, and pigs. After all the outdoor fun in the sun, we cooled off in the gift shop that offered organic milk products and barnyard themed toys! Adults $10 and Children 2-8 $8 … worth every penny.
Day Three - Parks and Carousel

Brenham has amazing parks. Seriously great parks. Our grandkids' eyes lit up when they entered the carousel pavilion and saw the beautiful carved antique horses. Hearing their oohs and aahs as they pointed out which one was their favorite and which one they would ride … will be one of my favorite memories of the trip. We rode round and round, listening to calliope music mixed with the laughter and "Yee Haws" from our boys (and Cowboy Grandpa). $1, yes $1 for all you wanted to ride, (from 1-4pm Saturday-Sunday) adults and children alike! The. Best. Town. Ever.
We managed to pull them away from the carousel to play in the park near the Library, complete with giant shade covers and cushioned ground cover. My favorite was the tandem swing which allows you to put your child on one side and the adult sits across and faces him … allowing you to swing together and look at one another. Just a simple pleasure that I am so glad I got to share with our boys.
Day Four - Peeka Ranch and Books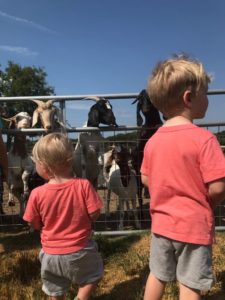 Peeka Ranch, close to Burton, is a beautiful ranch that raises alpacas. We were able to pet and feed their sweet animals. We learned all about alpacas and Cowboy Grandpa managed a great selfie with one of the sweetest alpacas! The gift shop is worth the trip alone. So many beautiful woolen products … I'll be shopping there often. BTW … there is no charge for visiting the alpacas, but a donation box is there if you want to donate!
Time for some AC after the ranch visit, so off to Downtown Brenham's little bookstore, The Book Nook.
The kids were smitten … not kidding. The play area captivated them while we filled our baskets with amazing finds for everyone. The children's book area is among the best I've seen and the prices are super affordable. My daughter couldn't believe her eyes and bought all kinds of goodies for her kids. The staff was helpful and kind. This quaint bookstore is a must-visit in Brenham.
Day Five - Departure
Time flew by quickly and we didn't even scratch the surface of all the things I had planned … Blue Bell, Washington-on-the Brazos, Downtown shopping (for daughter and me) … so much more to do and see! We will have to save those things for their next visit, which I hope will be soon.
So, if you are a panicked Nana, Grammy, Grandma, looking to make some great memories with your Grands… plan a few days in our town. You will enjoy every moment … and not break the bank.